0x Ecosystem Update — August 2019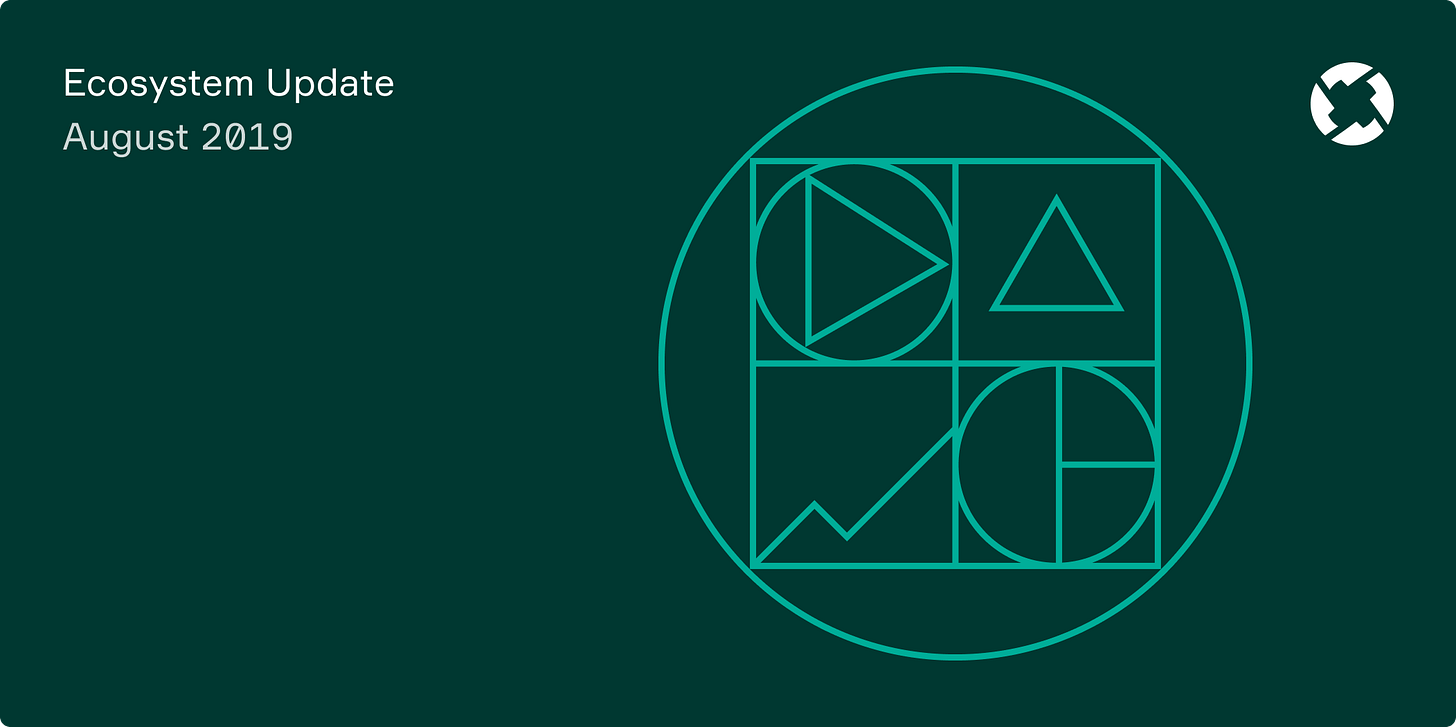 Hello 0x community! Our ecosystem had a busy month. In this report, we'll review a few new releases from the 0x Core Team, aggregated data from the 0x Network, and important updates from ecosystem projects. Let's dive in!
General 0x Updates
The New and Improved 0x Docs
We completely revamped 0x Documentation to simplify building on 0x. Our goal with this redesign was to provide more structure and significantly improve the developer experience across three main areas:
Getting up-to-speed on what you can do with 0x

Finding the right place to get started

Accessing the content you're looking for
We added a ton of helpful resources including core concept guides, tutorials, an on-chain API explorer, and even search! Take a look and get started building at 0x.org/docs.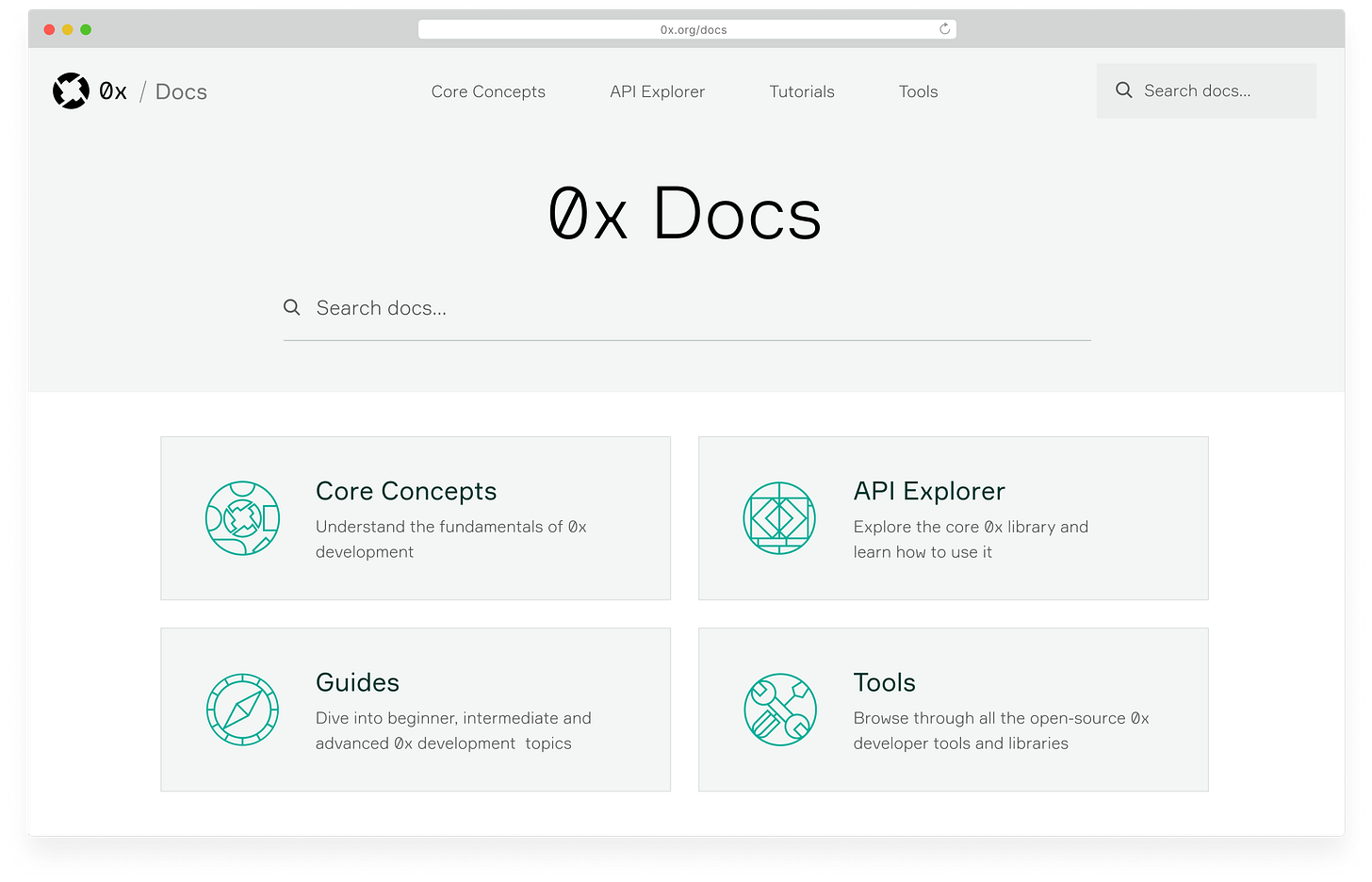 Contract-fillable Liquidity Made Simple with Asset Swapper
After working with 0x integrators like dYdX, we discovered that it was too complex sourcing liquidity from 0x via existing smart contract architectures. In response, we released Asset Swapper, a powerful tool that enables DeFi projects to automatically find liquidity, pass it into their smart contracts, and fill orders at the best prices from 0x's networked liquidity pool.

Asset Swapper is a convenience package that provides a simple way for smart contracts to leverage contract-fillable liquidity and exchange Ethereum-based assets. DeFi developers can flexibly use Asset Swapper to swap tokens in a single line of code or build custom integrations for more advanced token trades. Get started here!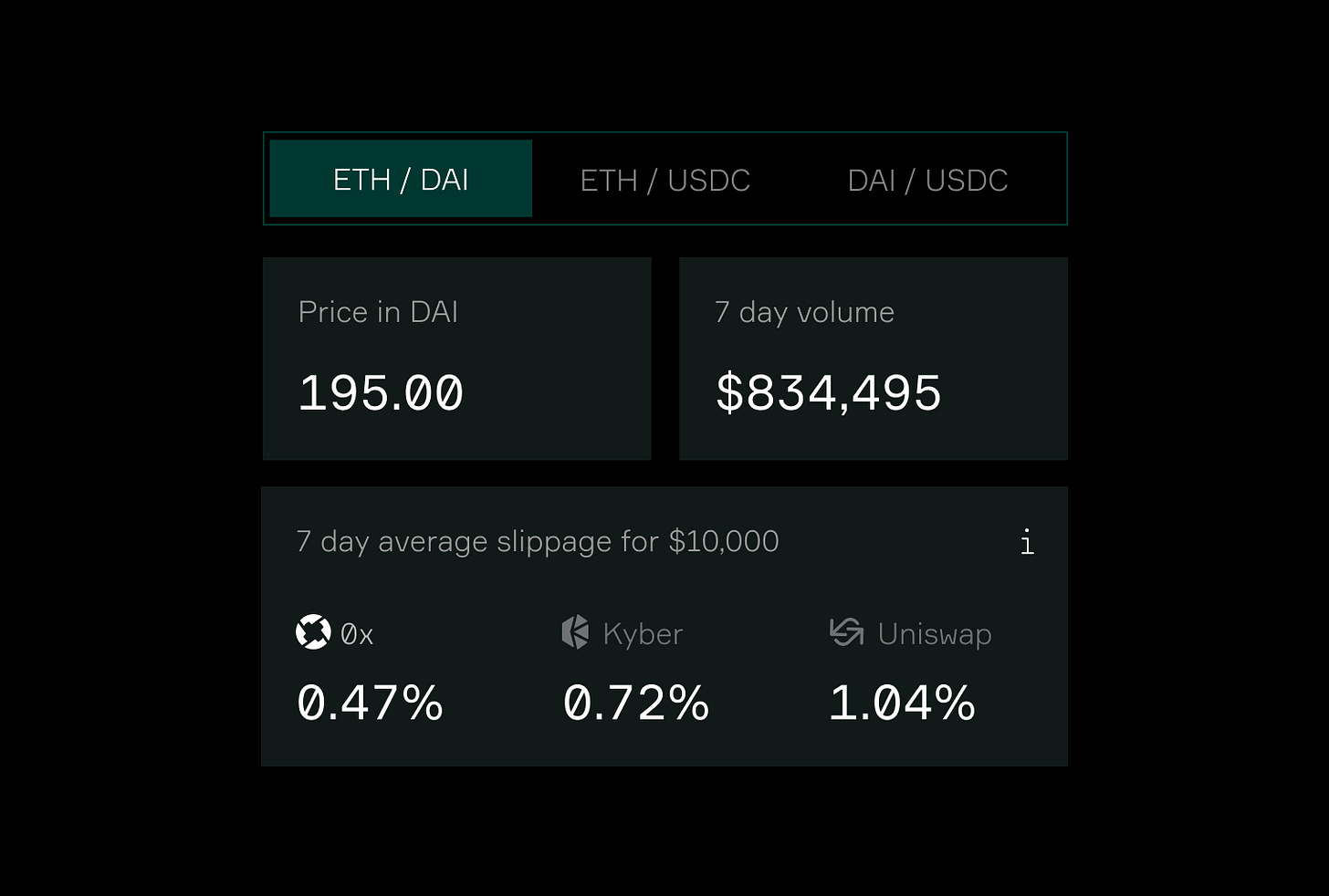 ZRX Staking Parameters
With the 0x v3.0 vote coming up in October, our Protocol Engineering team has been heads down fine-tuning the ZRX staking parameters and contracts. Check out the details here.

As a refresher, a few months ago we introduced a proposal to upgrade ZRX token economics. The idea is that a protocol fee from each 0x trade will be passed onto to market makers in the form of liquidity rewards for providing trade volume and staking ZRX over specific periods of times (called epochs). Market makers who do not have a sufficient amount of ZRX can form staking pools.

Any ZRX holder will be able to delegate their tokens to market maker pools to receive an allocation of these liquidity rewards. As more liquidity and volume flows into the 0x Network, the fees and rewards will grow proportionally. This, in turn, will incentivize ecosystem participants to hold ZRX for staking and voting on changes to the protocol that affect their usage of the network.
0x Network Data
0x Network trade volume was relatively flat month-over-month (MoM), however Tokenlon (imToken's in-app DEX) had a 38% increase from July. The growth can be attributed to a spike in USDT trading. In fact, USDT was the 2nd most exchanged token behind ETH in the month of August. Let's take a closer look at the data.
Trade volume: $30,369,681.92 (-2% MoM)

Trade count: 40,255 (+65% MoM)

Fill volume: $30,768,837 (+0% MoM)

Fill count: 41,488 (+70% MoM)

Unique makers: 1,198

Unique takers: 701

Unique addresses: 1,680
Top Tokens
We calculated volume using both canonical and Ethfinex wrapper tokens. Note that volume exceeds total fill volume due to the two-sided nature of trades.
ETH: $25,119,144 (+1.6% MoM)

USDT: $12,777,023 (+16% MoM)

DAI: $11,781,147 (-19% MoM)

USDC: $6,439,097 (-3% MoM)
Top Relayers
Tokenlon: $13,795,533 (+38% MoM)

Radar Relay: $13,481,734.7 (-20% MoM)

Ethfinex: $2,443,462.79 (-26% MoM)

Paradex: $294,519.35 (-45% MoM)

Tokenmon: $96,780.47 (-54% MoM)
Ecosystem Highlights
Project Updates
Chris from Tokenlon (imToken)
Tokenlon is a mobile DEX embedded in imToken, a popular crypto wallet.
About $14M in trading volume, or 71196 ETH

$1.4M peak in daily volume

20k transactions, by 10k addresses

Users mainly trade ETH <> stablecoins and exchange ETH for ATOM or EOS.

Check our tweets for weekly data updates
Ben from DeversiFi (formerly Ethfinex)
DeversiFi is a relayer based out of the UK.
Ethfinex announced their evolution to DeversiFi — the only high-speed DEX where traders can execute orders of any size directly from the security of their private wallet. The news came with the introduction of decentralized Margin and Lending features (using bZx), enhancing the competitiveness of the exchange and allowing them to close down Ethfinex.com and focus solely on building out the DeFi ecosystem.

Integrated Squarelink, offering more wallet flexibility and convenience with a user-friendly and super convenient one-for-all platform.

Attended Berlin Blockchain Week, hosting The Governance Games, and joined forces with 0x to host the #DeFi Assemble — an evening event after the popular DeFi Summit London.
Greg from OpenRelay
Open Relay is an open-source relayer and infrastructure company.
Antonio from dYdX
dYdX is both a margin lending protocol and a user-facing decentralized exchange that creates leveraged short and long positions on Ethereum-based assets.
Ryan from Fabrx
Fabrx is an infrastructure company that enables businesses to quickly spin up a 0x relayer.
Joshua from Bamboo Relay
Bamboo is an exchange that allows users to trade, lend, or borrow any ERC-20 token trustlessly.
Continued development on website re-design
Jim from Emoon
Emoon is a p2p marketplace for ERC-20 and ERC-721 (NFT) assets.
David from GU Decks
GU Decks is a secondary marketplace for Gods Unchained NFT card packs.
TokenTrove has launched v. 1.0 of its NFT marketplace. Gods Unchained NFTs and CheezeWizards are the initial tokens you can trade on it.
Andrei from Flowerpatch
Flowerpatch is an NFT-based game that utilizes 0x exchange functionality.
This was a big month for Flowerpatch, in which we have released our Alpha game world.

This is a multiplayer game board, where players may plant their FLOWERs, and breed them with other players. In the next patch, we will release a system where players earn ETH when others breed with them
Matt from LedgerDEX
LedgerDEX is an ERC-20 token relayer.
Updated order status checking method in response to the recent change in 0x.js.

Attended Blockchain Week and the ETHBerlin Hackathon in Berlin.
Crypto News
Fun Stuff