Interview with MARKET Protocol, dYdX's CFL Integration, and New Launch Kit UIs
0x Ecosystem Update, June 2019
Hello 0x community! We've decided to retire the Relayer Report and rebrand our monthly update. Since the first edition of our newsletter in May 2018, the 0x ecosystem has grown beyond just relayers. There is now a diversity of projects in the ecosystem, which we intend to report on in this monthly recap going forward. We will be expanding our coverage of a variety of topics including 0x Network metrics, market making on DEXs, and new types of companies integrating with 0x. Let's dive in!
General 0x Updates
dYdX and Contract-fillable Liquidity
We wrote up a case study about dYdX's recent 0x integration. This integration is powerful in that it leverages contract-fillable liquidity (CFL), which describes the ability for smart contracts to programmatically swap tokens by filling orders on decentralized exchanges. 0x now has some of the lowest slippage compared to other DEX protocols (IDEX, Kyber, Uniswap, etc.) for popular pairs like ETH/DAI, ETH/USDC, DAI/USDC, BAT/ETH, and more. In addition to providing liquid markets for key trading pairs at all purchase prices, we have added new documentation to help developers easily tap into the 0x networked liquidity pool.

StarkDEX Demo
We released a demo of StarkDEX, a proof-of-concept technology developed in collaboration with StarkWare. StarkDEX is decentralized exchange infrastructure that utilizes STARKs to remove the glass ceiling on non-custodial trading and allows crypto exchanges to offer their customers trading at scale, without counter-party risk. Today, the system at max capacity can batch 8,000 transactions per block, which is over 550 transactions per second and 200x cheaper in terms of gas costs. Ethereum at max capacity can only verify roughly 3 transactions per second. Check out the demo here.
0x Launch Kit Reloaded
We launched version 2 of 0x Launch Kit. We designed a pair of off-the-shelf React UIs for both orderbook relayers and NFT marketplaces. Adding these new frontend templates enable developers and businesses to launch a marketplace in just 1 line of code! We also combined both frontend and backend components into a single Docker container that can be utilized to create your own decentralized exchange. Learn more here and get started creating your own marketplace here.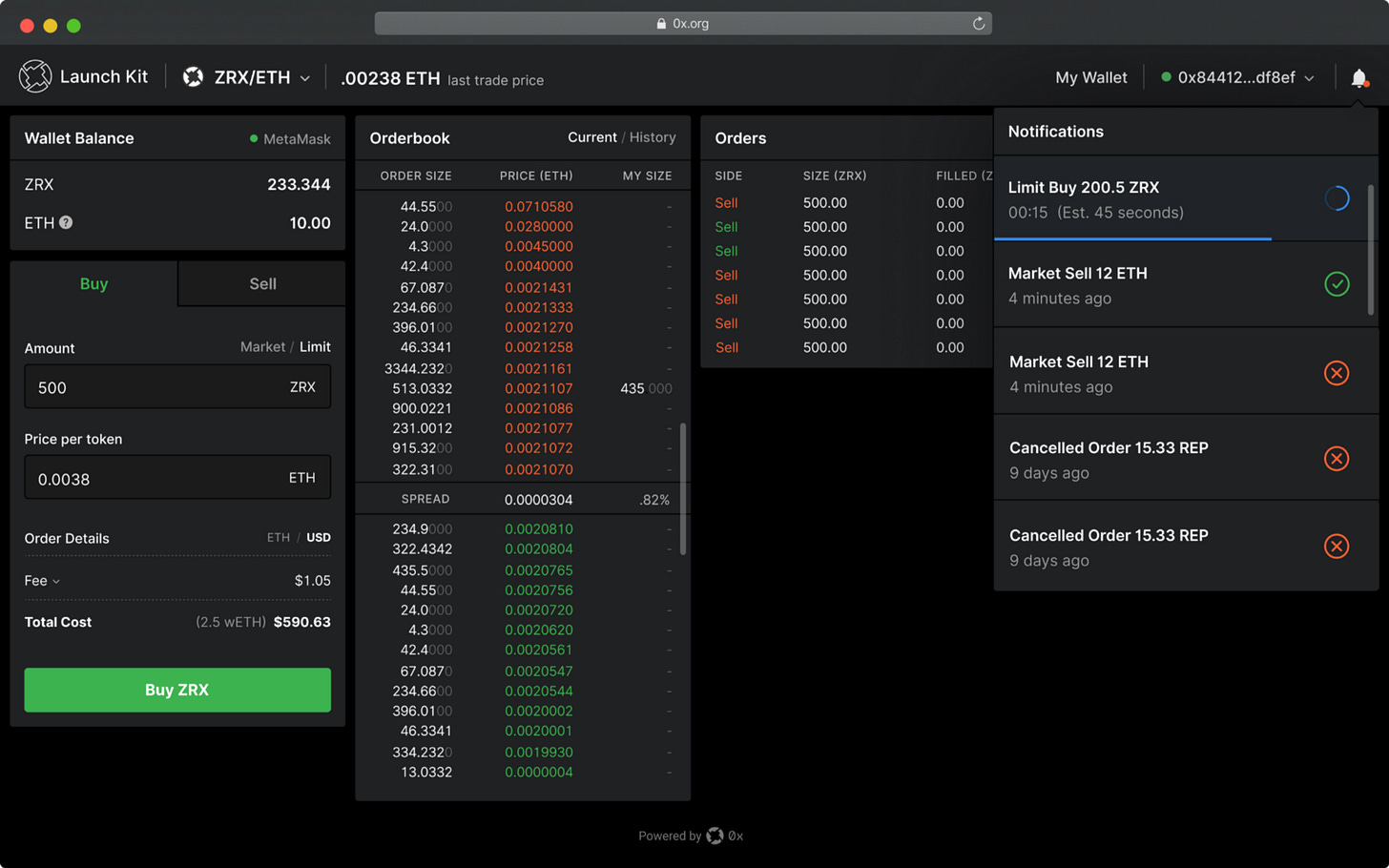 The Inaugural 0x Team Hackathon
In June, we hosted our first internal hackathon! We believe it is important to reserve time to explore creative ideas and hack on prototypes that have the potential to grow 0x and the greater crypto economy, even if they do not directly contribute to our quarterly company objectives. Creating an open environment where team members can discuss and build innovative technology is deeply embedded in our company culture and some of the key components of the 0x stack originated from Core Team members hacking in their spare time and bouncing ideas off each other.

This hackathon was intended to foster that innovative spirit and give team members the freedom to build whatever piqued their interest. Check out all the project submissions here.
Educational YouTube Videos
We are starting to work on revamping our YouTube channel. We have created a variety of video playlists intended to keep our community informed on 0x updates and assist developers with building on 0x. Check out some of our recent video series including:
Interview with MARKET Protocol
The MARKET Protocol team recently launched MPX, a decentralized derivatives exchange built on 0x. Bass Bauman, their Head of Business Strategy, was kind enough to answer some questions about the vision for their product and protocol.
Why did you and your team build MARKET Protocol?
We saw that the risk management tools we used as derivatives traders did not exist in the nascent crypto markets. We knew that crypto volatility would be a barrier to adoption, and we wanted to build something to help solve this problem, so we began working on what became MARKET Protocol, a solution that benefits hedgers, speculators and investors alike.
In layman's terms, how does MARKET Protocol work?
MARKET Protocol enables users to mint tokenized derivative assets. For example, tokenized positions in Apple shares, YEN, or even leveraged relationships like 2x short Bitcoin. Smart contracts enforce the token rules so there is no counter-party risk, and tokens are ERC-20s so they can trade on any crypto exchange.
Our first product is a BTC/DAI contract. There are two tokens: short BTC/DAI (sBTC) and long BTC/DAI (LBTC). If you buy sBTC, you profit when the price of Bitcoin goes down. If you buy LBTC, then you profit when the price of Bitcoin rises. Both tokens offer leverage, so you can earn more profit with the same amount of capital.

Last week, you guys released MPX, the first exchange utilizing MARKET Protocol. Congrats! How is the launch going so far?
Great so far! The official launch of MPX was Monday, June 24th. We saw nearly $60K of open interest within the first day, which was certainly more than we were expecting at launch. We're very excited to have users on board now!
How did your team utilize 0x in building MPX?
To get started, we used the 0x Launch Kit, 0x.js and 0x Connect to interact with the 0x protocol, specifically the order watcher from the Launch Kit. We're currently in the process of swapping out the order watcher for 0x Mesh. Our team is very excited about this upgrade!
What's on the MPX roadmap for the rest of 2019?
It's all about creating more opportunities for traders. Currently, we're focused on listing more trading pairs for cross-chain assets like XRP, LTC, and EOS. Beyond crypto assets, we want to list an index of technology stocks, for example, FANGs. Next, we want to show off the flexibility of our protocol by creating totally new relationships like a token representing volatility in the crypto space, for example, a Crypto VIX.
We are also focused on supporting the further adoption of Position Tokens. We expect tokens to be listed soon by a few other decentralized exchanges looking to offer cross-chain assets. We're also exploring how to integrate Position Tokens with other DeFi protocols.
Our long term goal is to reduce MARKET Protocol's reliance on external data sources, and for this reason, we are distributing the MKT token to traders and other users of the platform. Beginning later this year, we expect the community of token holders to assist in arbitration, settlement, and governance.

What is exciting to you about DeFi right now or the crypto space more generally?
We're excited to finally see some traction in many applications. The amount of assets locked in DeFi protocols is starting to take off. A number of projects that have released second versions are starting to see hockey stick growth. In general, DeFi is becoming more usable and accessible, and the thawing crypto markets should provide a great tailwind. We look forward to what comes next!
0x Network Data
Thanks to Craig from 0x Tracker for pulling this month's 0x v2.0 trade data (5/20–6/18)!
Trade volume: $20,224,744 (+17.05% MoM)

Fill count: 45,613 (-21% MoM)

Fill volume: $21,880,703 (+5.5% MoM)

Trade count: 18,249 (-39.14% MoM)

Unique makers: 843

Unique takers: 763

Unique addresses: 1,372
Top Tokens
We calculated volume using both canonical and Ethfinex wrapper tokens. Also note that volume exceeds total fill volume due to two-sided nature of trades.
ETH: $20,497,988

USDT: $8,637,253

DAI: $4,381,098

MKR: $4,096,005

TUSD: $1,954,124
Top Relayers
Tokenlon: $9,841,977 (+537.75% MoM)

Ethfinex: $5,658,555 (-26.85% MoM)

Radar Relay: $3,379,367 (-34.29% MoM)

Paradex: $960,373 (-59.33% MoM)

Tokenmon: $268,592 (+12.1% MoM)
Project Updates
Chris from Tokenlon (imToken)
Tokenlon is a mobile DEX embedded in imToken, a popular crypto wallet.
Last month, Tokenlon saw $9.81M in trading volume, stayed #1 0x relayer, climbed to #2 in DEX 7day trading volume — overtaking Kyber.

Now on the strategy side, we are focusing on supporting more trading pairs.

If you want, you can link our weekly tweets from https://twitter.com/tokenlon
Joshua from Bamboo Relay
Bamboo is an exchange that allows users to trade, lend, or borrow any ERC-20 token trustlessly.
Launched our implementation of the 0x coordinator onto mainnet

Created a hummingbot connector for Bamboo Relay — allowing anyone to market make across all the pairs that we offer

Listed new USDC/TUSD/DAI markets
Greg from OpenRelay
Open Relay is an open source relayer and infrastructure company
Concluded EthCattle Initiative project (Big thank you to the 0x Team for your support!)

Announced Rivet, a product delivering hosted Geth node access — powered by EtherCattle

Preparing for Rivet beta launch, will go live in early-mid July — sign up at rivet.cloud and hit up Greg w/ questions
Michael from Hummingbot
Hummingbot is an open source software client that helps you build and run high-frequency market making bots for both decentralized and centralized exchanges.
Liquidity bounties are live! Users can earn rewards based on their market making volume for our token partners

[New strategy] "Pure market making": Make a market in a single exchange by setting and maintaining a bid-ask spread

[First community connector] Bamboo Relay has built a Hummingbot connector, and we are helping them have it support the new 0x Coordinator spec.

[New connector] IDEX: Hummingbot now supports the IDEX decentralized exchange.
Ryan from Fabrx
Fabrx is an infrastructure company that enables businesses to quickly spin up a 0x relayer.
Fabrx has fully integrated the 0x Relayer Frontend into the Fabrx Builder Platform! Platforms who build on Fabrx can now launch a decentralized exchange, with a fully functioning frontend, in 30 minutes or less.

Two new DEX's have launched on Fabrx: Merchcoins (exchange for tokenized gift cards) and Compound Exchange (the first DEX for Compound Assets. e.g. cDAI, cUSDC)

Fabrx has implemented a Fabrx DEX API that mirrors the 0x SRA API. Now, connecting to the backend of a Fabrx built DEX is as simple as connecting to the standard 0x API (e.g. "/v2/asset_pairs/" ==> "https://api.fabrx.io/relayer/merchcoins_exchange/asset_pairs")
Aditya from ForDEX
ForDEX is a stablecoin relayer and exchange.
Fordex is fully compliant with 0x's standard relayer API, web socket support will soon be enabled.

Other performance and reliability improvements.

UI improvements for the my accounts page.

Kyber liquidity pool integration for market orders.

Allow users to trade in decimals units on markets. ( It was previously disabled )

We continue to push on the market maker front to bring additional liquidity to the venue. Most market makers like Keyrock are asking for an upfront monthly payment which is something we are struggling with because we are not charging on either side yet. Discussions with wallet providers ongoing with Fordex being the backend FX provider.
Jim from Emoon
Emoon is a p2p marketplace for ERC-20 and ERC-721 (NFT) assets.
We've been internally focused on our ENS auction work and proposal, as well as other prototyping

Three interesting new listings for ERC20 utility tokens on Emoon: Merchcoins (https://www.merchcoins.com) gift card backed stable coin, Wrapped CryptoKitties (https://wrappedkitties.com/), NFT backed stable coin and ClearCoin (https://clearcoin.co/) smart contract based advertising and media buying technology.
Bass from MARKET Protocol
MPX is a relayer for trading MARKET Protocol Position Tokens, which track the prices of traditional or crypto assets.
We officially launched MPX and Position Tokens, introducing our first token — leveraged BTC/DAI! Traders can start trading on MPX (ex. US for now).

We kicked off an educational blog series titled MPExplained. Our first two posts explain how to price and trade Position Tokens.
Daniel from Kordex
Kordex is a 0x relayer based out of South Korea.
Babeldex is currently building out its 0x relayer platform, Kordex, in Korea with the blockchain community group, Nonce. For clarity, the Kordex platform includes a relayer with an integrated educational on-boarding platform with community focused content affiliated with Nonce.

We are focusing on the hyper-localization of interfaces through user profile interviews, educational on-boarding modules, and DeFi tool introductions. We have been expanding our Korea-based team specifically from the user interface side.

For a soft introduction to the Korean market, we will be co-hosting DeFi Seoul, an open finance event focused on the Korean market for decentralized finance tools during the buidl.asia blockchain developer conference (July 22nd). We will be speaking on Kordex, how we built with the 0x protocol, the importance of understanding the sovereignty of cryptocurrency, and non-custodial exchanges.
Lauren from Microsponsors
Microsponsors.io is a p2p sponsorship marketplace and ad network.
Integrating SendWyre for fiat onramp

Proof-of-Content registry and tooling are also in-progress. It will ensure that our marketplace users are selling valid sponsorship slots on content they own.

Our first two blog posts went up, to explain what we're doing: https://medium.com/@microsponsors

Marketing website went live a little over a month ago, gives a high-level overview of what we're doing: https://microsponsors.io/
Matt from LedgerDEX
LedgerDEX is an ERC-20 token relayer.
LedgerDex has been included in Etherscan's Dex Traker.

A number of bug fixes and UI improvements.
Jai from Ambo
Ambo is mobile relayer that was recently acquired by MyCrypto.
Upcoming redesigns all around the Ambo ecosystem

Update coming soon with tons of bug fixes and new features (biometrics and cool stuff)

We are actively looking to expand our liquidity, if you are a relayer or liquidity provider please reach out to jack@ambo.io
David from GU Decks
GU Decks is a secondary marketplace for Gods Unchained NFT card packs
Added live match results, tier lists, and rankings from Gods Unchained.
Abe from MobiDex
MobiDex is a mobile token relayer.
Mobidex 0.9.8 released with updates to wallet.

Planning 0.10.0 release with Bitski integration on iOS.
Crypto News
Fun Stuff