Relayer Report #13 — Interview with Augur's Joey Krug and Governance Experiments
The latest updates from the 0x ecosystem: November 2nd, 2018
Sign up for Relayer Report here

A few members from the 0x team are in Prague — say hello! The rest of us are enjoying the singing from San Francisco. If you're at DevCon, you may have also seen DDEX's poster in the Prague airport.
I'm also excited to introduce two new relayers building on top of 0x — Lake Trade and BlockSwap. Lake Trade is a team out of Toronto with no trading fees at the moment, so check them out. They eventually want to tackle roboadvising to become a crypto Wealthfront. Block Swap implements OTC functionality using 0x while also having a feature called Rooms, which lets communities of users transact peer-to-peer over any asset (be it CryptoKitty or niche ERC-20).
The Relayer Augur Needed
Last week I interviewed one of the co-founders of Veil, 0x's first prediction market relayer, so I thought I'd get into Augur a bit this week, with a quick Q&A with 0x advisor Joey Krug below. I found a great profile about Augurreleased a few weeks ago, where I learned that the name Augur comes from Roman seers who could predict the future from reading the flight patterns of birds. Sounds like cool knowledge that could be used in some kind of Augur tattoo, which I looked up after I wrote this and actually found an Augur tattoo.
I also reviewed the Augur whitepaper and came across this paragraph: "All Augur assets — including shares in market outcomes, participation tokens, shares in dispute bonds, and even ownership of the markets themselves — are transferable at all times." Any time I see the words asset and tradeable, I think relayer.
Q&A with Joey Krug of Augur
R: What's exciting you the most in the Augur ecosystem?
J: The most exciting thing is just seeing people building on top of it to be honest! Seeing markets on celebrities' success is pretty crazy and something I hadn't seen before. An interesting vertical I haven't seen targeted much would be markets on private companies, although the regulatory challenges for a company doing that would be hard.
R: What was your favorite project at ETHSF?
J: Augur Pro which was an iOS UI on top of Augur.
R: Augur was founded back in 2014, while 0x wasn't founded until the end of 2016. There has been a lot of talk about prediction market relayers recently — did you envision some type of relayer-like vehicle for tradeable Augur assets when Augur was founded?
J: I thought people would build things on top similar to relayers, but of course didn't know the term, and also hadn't thought to do trading partially off-chain as a relayer way back then.
R: How would you compare and contrast Augur to more pure derivative projects (dYdX for example)?
J: dYdX is for derivatives on assets that exist on-chain as well as a protocol for margin. Augur is for everything, but probably best for assets that don't exist on-chain. Since I believe blockchains will be a parallel financial system as opposed to the old one migrating over, I think there'll be much more value in purely synthetic cash-settled contracts.
R: You had a great post about fees in Augur and how they'll go down over time. Of the fees you mention in the article (fiat onramp, gas, volatility, market creator), which ones do you think will be the easiest to fix? Hardest?
J: On-ramp + volatility + creator fees will be the easiest, all fixable within the year. Gas costs and slowness of blockchains in general will take the longest.
R: What are you looking forward to in Augur V2?
J: Dai support mainly! As well as better UX that involves not needing to sync an app for hours haha.
Governance, Governance, Governance
Will and Peter presented "Building Self-Sustaining Ecosystems Through Governance" at DevCon. Our first governance experiment will be an elected committee of ZRX stakeholders who can decide where to allocate community funds. It's important to note two things:
This is an experiment (on a highly experimental technology that is built on top of another piece of highly experimental technology)

The end goal is to decentralize power in the network and give ZRX stakeholders influence over how the protocol upgrades over time
Reading through this deck I was reminded of a picture from Chris Dixon's article "Why Decentralization Matters":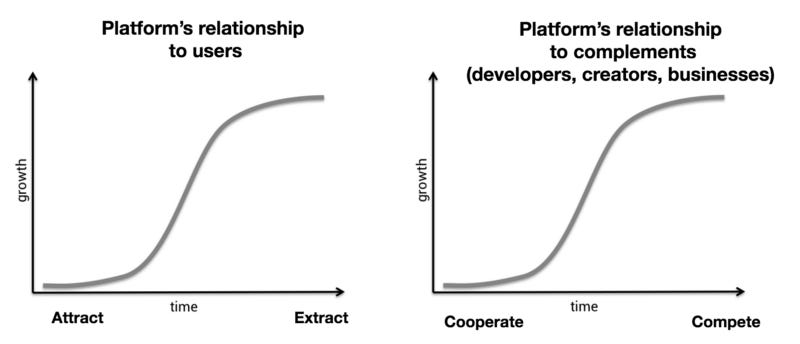 This S-curve has been the standard mode of operation for tech companies, but the 0x vision is to invert this, giving more and more power to stakeholders over time.
Ecosystem
LedgerDex (Matt):
We have started supporting the EIP712 standard for typed message signing. Now when users use MetaMask to sign a new order, they will see the order details showing up on MetaMask

To prepare for MetaMask's upcoming security upgrade (which will stop automatic injecting of Web3), we have updated our web app so that users can still use MetaMask smoothly after the change happens

We broke our record in daily trading volume: traded token value equivalent to USD $59,000 in a single day
DDEX (Diane):
Wallet connect feature in development: connecting desktop DDEX to mobile Wallets using end-to-end encryption by scanning a QR code

DDEX assists in the launch of WBTC (Wrapped Bitcoin Tokens) for bringing Bitcoin to Ethereum
Radar Relay (Beatrice):
sETH has arrived Radar Relay, read more about it on our educational site http://shorttokens.io

The market order handler has been updated and is now denominated in the quote token rather than the base token, take a look before you place your next order
STAR BIT (James):
STAR BIT EX 3.0 version and new homepage released with UI/UX renovated: STAR BIT EX

Support EIP-712 and we could check order detail before signature

STAR BIT EX 3.0 is able to set the trading pair based on different token or coin, such as SBT, DAI, TUSD
Bamboo Relay (Josh):
Instex (Tim):
Completing implementation of the SRA v2

Testing relayer before beta launch
Paradex (Katie):
Our team is busy at Devcon4 this week in Prague!
Veil (Paul):
OpenRelay (Greg):
The Ocean (Monica):
We're hard at work revamping all things The Ocean! If you'd like to help provide feedback or contribute to our developer portal, reach out to us at hello@theocean.trade

Our CEO, John, joined the Wyre team for their Wyre Talks podcast. Give it a listen to learn more about the infrastructural risk inherent in traditional finance and how cryptocurrency can be the solution
Jobs
Product Marketing Associate, Technical Support Associate @ Radar Relay
Links
Gluon Plasma: A Plasma Variant for Non-custodial Exchanges (Bharath Rao):
A company called Leverj, dubbed the decentralized leverage exchange, released their white paper recently, with the idea of using plasma sidechains for a high speed, low latency decentralized exchange.
Dex Research (Gnosis):
This Gnosis spec goes over a new kind of DEX design that involves batch transactions and STARKS.
WBTC: A Community Effort to Bring Bitcoin to Ethereum (Loi Luu):
Introducing Wrapped BTC, a collaborative effort by Kyber, BitGo, and Republic (with DDEX and Radar Relay as launch partners, among others.) All WBTC is fully collateralized by BTC, with atomic swapping between WBTC and BTC. While still very early, great to see more experiments on the cross-chain side of things.
Cute Cats Power Serious $15 Million Funding for CryptoKitties Creators(CoinDesk):
Dapper Labs (creators of CryptoKitties) raised another $15 million in funding, bringing its total to nearly $30 million. These are some phat cats. dYdX also raised a $10 million Series A with some of the best investors in the space.
How I Learned to Start Analyzing and Stop Building Inscrutability (Philip Daian):
Philip from IC3 tears apart security in decentralized exchanges (among other things), pointing out problems in front running, cancellations, and gas costs.
Fun Stuff
I read a really interesting interview with early free software pioneer Richard Stallman.
If you know anything about you me, you know I love watching documentaries on YouTube. Check out Nosebleed about the world of high stakes poker, and The Smash Brothers about the competitive gaming scene of Super Smash Bros Melee.
A tale of car companies and short sellers getting squeezed — Elon would love this.
Much love,
Rahul
Questions, comments, or suggestions? Message me on Twitter