Relayer Report #19—Extension Contracts, Ethfinex on V2, and Tokenary Interview
The latest updates from the 0x ecosystem: 3/12/19
Sign up for Relayer Report here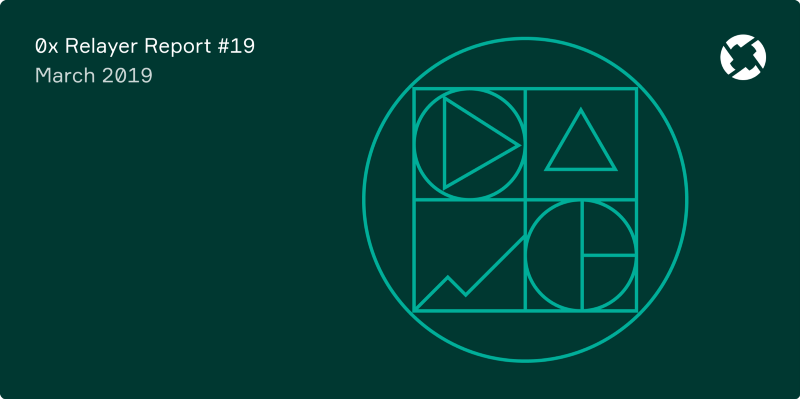 Relayer Report is moving to a monthly format! I say that with a heavy heart, but I am scaling back my thought leadership to focus on fewer but higher quality issues.
0x Recap
Ethfinex Moving to V2
Ethfinex, a first of its kind, hybrid relayer is moving to 0x V2! Ethfinex's model is pretty interesting in that it gives users access to the liquidity of its sister centralized exchange Bitfinex, while keeping the secure, wallet-to-wallet trading functionality of a 0x relayer. Ethfinex had a few reasons for the switch:
ERC721 compatibility, meaning greater scope and flexibility with tokens getting added to the exchange

Increased reliability and speed with new, streamlined order-data formatting

The inclusion of a new signature type, bringing with it two main end-user improvements: more human readable data shown in Metamask when signing a message and more order creation flexibility for contracts

Easier integrations with the wider 0x ecosystem as a whole
Ethfinex also recently celebrated its first birthday, now a group of 25 located largely in London but having remote members in Copenhagen, Switzerland, Prague, and elsewhere. On the liquidity side, Ethfinex's top token pair is ETH/USDT, with other Dai pairs gaining popularity as well. Stablecoins are a huge interest for traders at the moment due to various arbitrage opportunities.
Finally, easier wallet integration remains a focus for the team moving forward, with Ethfinex CEO Will presenting at ETHCC and highlighting the high friction of the current wallet landscape. Ethfinex has enabled a range of popular wallets on their platform, including Ledger, Trezor, MetaMask and Portis.
Tokenary Interview
I sat down with Tokenary, the winner of the 0x + CoinList Hackathon for a few questions about their team and project. Tokenary built a way to trade NFTs over Bluetooth and WiFi.
Q: What is your team's background? How did you end up interested in cryptocurrency, 0x, and NFTs?
Our five-person team is purely technical. When we first started using the Ethereum network in 2016, we faced many usability problems common to new technologies. In an attempt to address them, during the Qtum hackathon in Moscow in the summer of 2017, our team developed a prototype of a simple wallet application. After that, we started experimenting with different product features to make interactions with Ethereum as simple as possible but without compromising on trust and security. We started exploring NFTs with the release of Crypto Kitties and developed a native interface for tokenized collectibles back in early 2018. We also experimented with different trading features and that's one of the reasons why we come up with a P2P idea.
Q: What are a few of Tokenary's use cases? Do you have plans to continue the project?
Tokenary is a user-friendly way to interact with DApps across different devices. We provide three options for that:
- A brand new Safari Web3 extension
- Tokenary DApp browser for iOS. We have a super simple interface that allows you to switch between multiple Ethereum accounts
- WalletConnect, which allows for using a DApp in a browser and sign the related transactions in the Tokenary iOS app
Q: What are a few things that excite you in the NFT space right now?
We are incredibly excited about new use-cases like gaming, fantasy sports, digital arts, charity, coupons that NFTs could support and bring to global scale. We hope that many new secondary markets will emerge and drive crypto adoption among the younger generation. It would also be great to buy NFTs through in-app or card purchases.
Ecosystem
LedgerDex (Matt):
LedgerDex is an open order book relayer that allows wallet-to-wallet trading of Ethereum-based token as well as next generation token management.
LedgerDex has integrated 0x Instant so that users can buy tokens more easily without the needs of ETH wrapping and setting allowances. For details, please see our blog announcement

Updated the LedgerDex web app and API server to use the latest version of the 0x.js library

Updated the popular trading pair list on our web app
Veil (Paul):
Veil is a non-custodial trading platform for blockchain-based derivatives and prediction markets.
Launched a redesign of the Veil market pages, which features multiple odds formats and a new concept called wagers (shareable limit orders). Try out the new UI on any binary or categorical market

Listed new markets. Now you can speculate on how much ETH will be locked in Uniswap or Compound or take 5x leveraged long or short positions in Maker (MKR) or Binance Coin (BNB)

Added notifications and orders page, so it's easier to keep track of what's happening across all the markets you're participating in
OpenRelay (Greg):
Open Relay is an open order book relayer with a focus on scalable and open source backend infrastructure.
StarBit (James):
STAR BIT is a matching order book relayer based in Taiwan.
Added the wBTC trading pair

Looking into adding bZx function for the margin trade in the next version of the exchange, this is the bZx research article from STAR BIT
EMoon (Jim):
Emoon is a peer-to-peer marketplace for the exchange of ERC-20 and ERC-721 crypto assets.
Ambo (Jai):
Ambo is a mobile-focused wallet and relayer acquired by MyCrypto.
Putting the finishing touches on our iOS app

Getting ready for launch SOON
Bamboo Relay (Josh):
Bamboo Relay is an open orderbook relayer for ERC-20 tokens.
Improved mobile wallet integration. The following wallets should now work on both Android and iPhone: Trust, Cipher, Coinbase, imToken, Alpha Wallet, Opera
Mobidex (Abe):
Mobidex is a mobile first wallet and open orderbook relayer.
Radar Relay (Whitney):
Radar Relay is an open order book relayer made by an international team based in Colorado.
0x.js libraries updates and troubleshooting bugs

Added an indicator line to show where limit orders will land on the spread

Radar ION resources now include mainnet
Lake Project (Rishabh):
Lake Project is a Canadian relayer building user-friendly trading and investing tools for the decentralized financial future.
Adding in DAI support and 0x Instant

Refactoring for scale add adding in multi-wallet support
Token Mom:
Token Mom is a relayer based in Taiwan with no exchange fees and no minimum order.
Tokenmom has various programs like the referral and reward systems and is working on adding a trading competition airdrop and voting system for new token listing

You can find the link at landing page of tokenmom.com
Links
The Three Powers of Augur (Ben Davidow):
A nice, succinct summary of what Augur could do, which is quite a bit, and Ben has an Augur newsletter as well I just subscribed to.
Dai in Numbers (MakerDAO):
A #datadriven look into Dai.
Algorithmic Trading in Crypto (Kevin Zhou):
Great intro into all things algorithmic trading in the crypto world.
4 Takeaways from ETHDenver (Lake Finance):
Good post from relayer Lake Finance on their thoughts around ETHDenver.
Snapshot of all things DeFi.
CoinCenter Against Surveillance Overreach (Jason Somensatto):
Our legal counsel Jason voices his support for a CoinCenter piece against the surveillance of developers and users.
Fun Stuff
A really good explanation of this abstract idea of "state" from Denis Nazarov of A16Z crypto.
The London Whale, who lost $6.2 billion for JPMorgan Chase & Co.
Charles Howard, the Porta Potty King of NYC.
Wealthy, Successful, and Miserable: why people aren't happy at work.
A 45 minute documentary on The Black Lotus, the rarest card in Magic: The Gathering. Really interesting deep dive into the world of collectibles, and the quest of how to determine authenticity for said collectibles.
I read this extremely prescient piece from Bill Gates in 1995 when it was compared to Zuckerberg's new privacy memo by Fred Wilson of USV. Bill Gates is explaining how Microsoft will pivot as a result of the potential of the Internet, and Bill Gates totally nails it. The thing is, this made me think if crypto takes off, how many thought leaders are going to come out and point to their former tweets and blog posts and tell everyone how they called it. They will have been right in this scenario, but, seriously think about that for a second, if crypto takes off there will be literally thousands of tweets and articles about how people called it. Like there are so many tweets.
Much love,
Rahul
Questions, comments, or suggestions? Message me on Twitter
Learn more about 0x and join our community
Website | Blog | Twitter | Discord Chat | Facebook | Reddit | LinkedIn | Subscribe to our newsletter for updates in the 0x ecosystem