Relayer Report #9 — It's Conference Season
The latest updates from the 0x ecosystem: September 5th, 2018
Sign up for Relayer Report here

ETHBerlin is happening from September 7th to 9th, and the entire 0x team will be there. We would love to meet anyone interested in building on top of the 0x protocol. Also, make sure to go to Nadav's talk about the power of open financial primitives (Day 1 at 4:55pm).
As a bit of a throwback to another conference a long time ago in a galaxy far away, Will and Amir won the Consensus Proof-Of-Work award for $10,000 back in 2017. Look at these strapping young men (with Messari's Ryan Selkis presenting the award).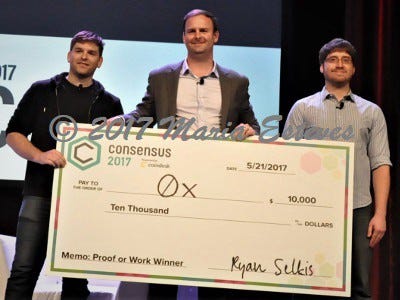 Picture Link
Ecosystem
Radar Relay (Beatrice):
Marketplace Selector has a brand new look. You can now see price, volume, 24h change, spread, and order depth at a glance

Navigation Bar has been updated. Language selector larger, onboarding module now part of the navigation bar, and updated icons

Single order fill functionality on market orders have been removed. This has better UX and prepares Radar for future order book scalability
Mobidex (Abraham):
Mobidex entered closed beta on Saturday and is running on the main network. The tokens available for trading are listed here. Users that were part of the Alpha need to upgrade the App. We'll be rolling into a public beta shortly. Stay tuned

Abe gave a blockchain tutorial at DataCon (formerly Big Data Day LA). Around 50 students attended. Slides and source code available here
LedgerDex (Matt):
Based on feedback from our users, we have fixed a number of UI bugs and now the LedgerDex web app is even more user-friendly

We have been busy looking into 0x V2 and working on our plan to migrate LedgerDex to support the next version of the 0x protocol
Shark Relay (Suchit):
We have published our latest development update #4 here

We are currently in the process of migrating to 0x version 2

Shark Relay users can now access our liquidity via Totle's portfolio management application. Check out the announcement here
Instex (Tim):
We are working on complete restart of our relayer, with open order book, Standard Relayer API and 0x v2

We hired 2 developers, so we are now team of 4!
STARbit (James):
Adding additional protocols like the b0x to support more trading features

Starbit token announced, which provides a trading fee distributing system
imToken (Yongkhang):
Updated and opened Tokenlon API to share orderbook with the 0x relayer ecosystem, here

5 token pairs (ZRX, OMG, KNC, SNT, DAI) to trade directly in mobile! More to come very soon

Follow us on our Twitter for more amazing updates
The Ocean (Monica):
What's next on the Ocean's roadmap? Derivatives, BTC, securities, and more

Over 10 OCEAN million tokens delivered to early adopters and ZRX & ERC20 holders

Exploring Decentraland: Shifting power back to the players
OpenRelay (Greg):
ERC dEX (Lindsey):
Our CFO, John Mattox, spoke on a panel for Blockchain Beach in Santa Monica earlier this month

Trade our new token listing: BNFT — follow us on Twitter to receive the announcements in real-time

Make sure to say hello to our CMO, Lindsey Renken, at ETH Berlin, as she will be mentoring
DDEX (Shichao):
Jobs
Copywriter, Product Designer @ Radar Relay
Events
9/13 (Shark Relay) — Webinar where we demonstrate trades on our trading dashboard
Links
Naval on Fake Exchange Volume (Twitter):
Naval tweets about the possibility that much of exchange volume is faked.
0x Review (Keysheet):
Some experts give their review of 0x — cool website that's kind of like a Rotten Tomatoes for cryptocurrency projects.
Fun Stuff
I liked this article in the New York Times titled "The Secret to Ant Efficiency is Idleness." You never want too many cooks in the kitchen.
I've been watching a lot of documentaries lately — some of my favorites: Waltz With Bashir, an Israeli animated war film, Icarus, which takes a deep dive into the world of doping, Maestro, about legendary DJ Larry Levan and Paradise Garage, and finally a must watch for any cryptocurrency enthusiast, Citizenfour, a chronicle of Edward Snowden and his NSA releases. I was reading the Reddit AMA done by Snowden and the two journalists who made Citizenfour, and found this very important comment from him about why a government should never have perfect surveillance and enforcement.
Amsterdam drained a canal and found items from the 14th century to the present. They found over 700,000 objects. Check out this time capsule on steroids.
Much love,
Rahul
Questions, comments, or suggestions? Contact me on Twitter